Kansas Road Map
---
The scalable Kansas map on this page shows the state's major roads and highways as well as its counties and cities, including Topeka, Kansas' capital city, and Wichita, its most populous city.
Road Through Kansas Wheat Fields
Kansas Map Navigation
To display the map in full-screen mode, click or touch the full screen button. To zoom in on the Kansas state road map, click or touch the plus (+) button; to zoom out, click or touch the minus (-) button. To scroll or pan the zoomed-in map, either (1) use the scroll bars or (2) simply swipe or drag the map in any direction. (The scrolling or panning method you use will depend on your device and browser capabilities.) At any time, you can display the entire Kansas road map in a new window or print this page, including the visible portion of the map.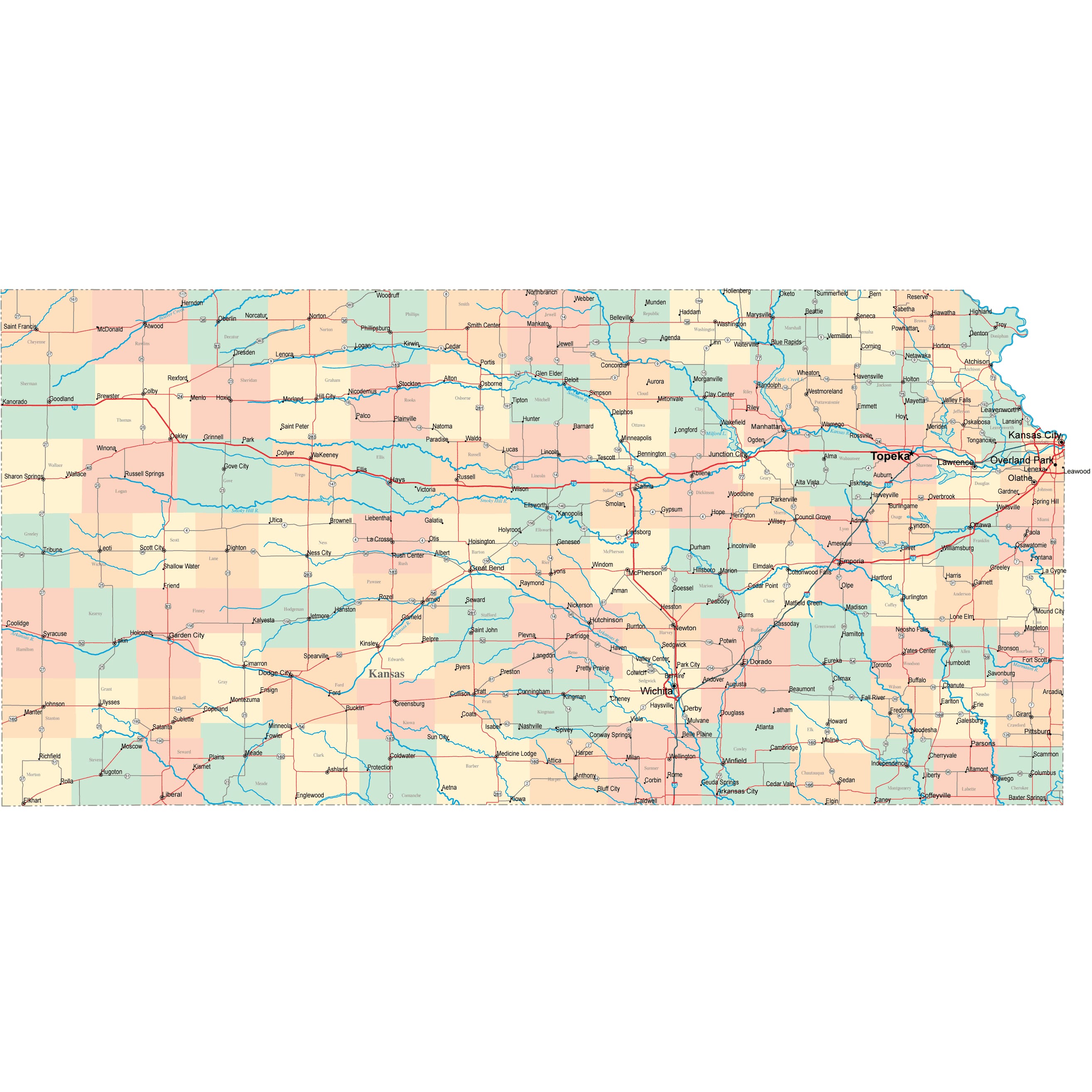 The following Map Legend and Scale of Miles apply to the road map on this page, at its largest displayed scale.
Kansas Map Legend
Kansas Map Scale Of Miles
Kansas Interstate Highways
Kansas' Interstate Highways connect its major cities and facilitate travel between Kansas and its neighboring states. I-35 crosses southeastern Kansas between the Oklahoma border and the Missouri border at Kansas City. I-70 traverses the state from east to west. Kansas' auxiliary Interstate Highways serve the state's metro areas. I-135 connects Wichita with I-70 near Salina. I-235 provides convenient access to Wichita Mid-Continent Airport and western parts of Wichita. I-335, part of the Kansas Turnpike, connects Topeka with I-35 near Emporia. I-470 loops around the south side of Topeka, joining I-70 at its eastern and western termini.
Kansas Scenic Routes
The 360-mile trip from Olathe to Dodge City on Route 56 passes by several of the state's historic sites and wildlife refuges. Heading west, travelers can see portions of the Sante Fe Trail, as well as a one-room schoolhouse and the Ivan Boyd Prairie Preserve. West of Council Grove, nature lovers will enjoy the Maxwell Wildlife Refuge and the Quivira National Wildlife Refuge, where they can view plenty of birds, deer, beavers, badgers, and black-tailed prairie dogs. More information about scenic roads in Kansas is available on this Kansas Byways site.
Kansas Road Travel Resources
For more information about Kansas' roads and transportation infrastructure, visit the Kansas Department of Transportation website. For Kansas road traffic conditions, visit the Federal Highway Administration's Kansas Traffic Information page.
---
Copyright © 2005-2023 State-Maps.org. All rights reserved.
Kansas-Map.org is a State Maps reference source.

Kansas Road Map
Kansas Travel Map - KS Highway Map